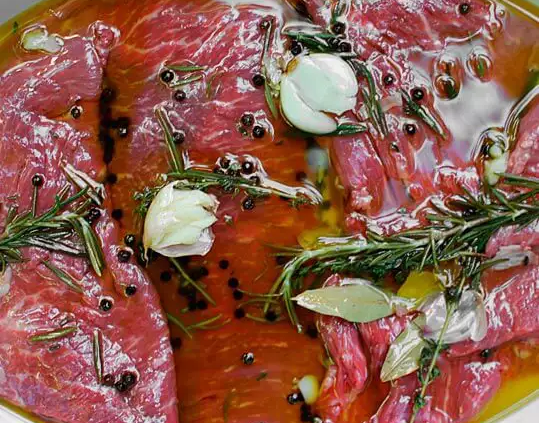 The secret of good barbecue marinades! The best tips for barbecue and grill.
Spring is finally here!
What could be better than spending a carefree weekend in the company of friends? It's even nicer when you can enjoy well-grilled meat between a good drop of wine and the other. All of this only works if you have mastered the art of barbecuing to some degree
and approach the matter with expertise.

Before we start building a fire in our barbecue or smoker, we need to think about what we are going to grill, what meat we want to grill and how we can marinate the meat for grilling. Whether it is beef steaks, pork ribs, rack of lamb or grilled chicken, it is highly recommended to prepare these foods with the most appropriate marinade for several reasons. In principle, a barbecue marinade consists of three ingredients: Oil, acid and spices that are mixed together. Whether you prefer oil or acid is a matter of taste. But when it comes to oil, don't skimp on the wrong end, as this is how aromatic substances get into the meat. It should be a high-quality vegetable oil such as olive oil. For acidity, vinegar, lemon juice, wine or orange juice can be used, but with olive oil, which is known to contain oleic acid and polyphenols, you can kill two birds with one stone. With the spices, you have a free hand, just as you like. For this reason, we have decided to present what we consider to be the best oils for grilling meat and fish.
Why marinate with olive oil?

What most people don't know: Italy is a country of barbecue champions. Why hasn't this information penetrated Germany? Because most tourists to Italy give a wide berth to any restaurant that is not labelled "Pizzeria"; anyone with the title "Trattoria Specialitá alla Brace" is left out.
In these temples of barbecue, grilling is done on large grills fed by embers from oak or beech wood fires, and this art is celebrated to perfection here. Extra virgin olive oil is a key element in this discipline. Its use gives a different taste depending on the quantity used and the dish. This depends on the variety of olives, the taste, the smell and the intensity of their fruitiness. However, what many do not know is that olive oil-based marinades significantly reduce the pollutants released when meat is roasted at high temperatures. When fat runs off the embers, smoke often rises. This converts noble proteins into carcinogens. To continue grilling without risk, it is advisable to use extra virgin olive oil, lemon and various spices such as rosemary. The right amount of these ingredients forms a real protective barrier against the harmful substances released during roasting.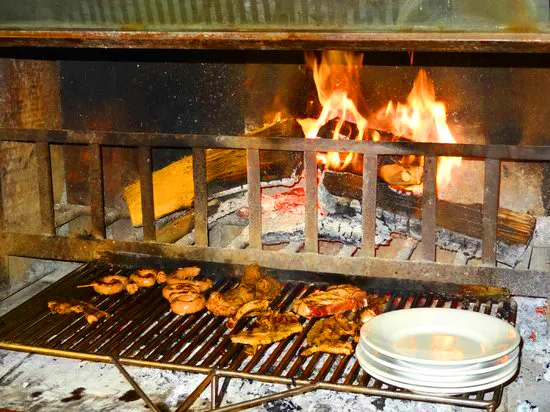 The best extra virgin olive oil for marinating
The marinade of the grilled meat then varies depending on the variety and cut:
Grilled chicken: If it is poultry, the meat should be left to rest for 2 to 4 hours before grilling.
For the marinade, we choose medium-intensity fruity oils. Well balanced in taste, they create the right balance. For this we have chosen the extra virgin olive oil extra virgin olive oil "L'Eliodoro". It has a medium fruitiness and is made with Coratina and Ogliarola olives. The slightly bitter spiciness stands out from the rooster flavour and provides balance.
Beef steak and pork ribs:
Red meat and pork require resting times between 4 and 6 hours.
For the marinade, we choose medium and intensely fruity oils. Olive oils with stronger notes are ideal to balance the generally stronger taste of these cuts. To marinate these cuts, we have chosen the "Smeraldo". An oil with an intense fruitiness, made from 100% Coratina olives. For the pork ribs, the "Classic", a mature olive oil made from Coratina and Ogliarola olives.
Grilled rack of lamb: lamb and mutton also have high marinating times between 4 and 6 hours. Starting from an already flavorful base, we choose for the marinade an intense fruity oil like the "Smeraldo".
How to grill and season meat perfectly
After marinating the meat, it is time to grill it. Again, we need to pay attention to the variety we have chosen. Whether it's a juicy beef steak or grilling delicious ribs, the right technique and the right extra virgin olive oil make all the difference.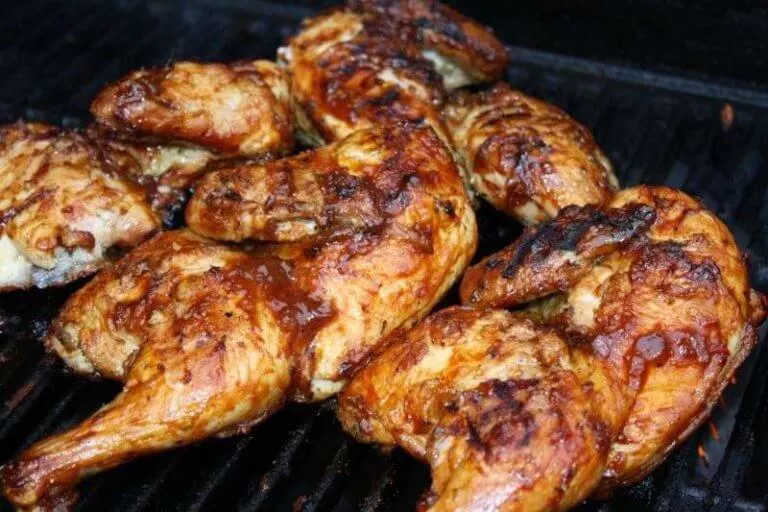 Grilled chicken: It is one of the drawing cards of every barbecue party.

However, grilling is one of the most complicated and very often the meat is undercooked or burnt. How does it work? We must not expose it to direct embers, but should grill it over a mild heat, preferably indirectly in a smoker or Weber grill . The chicken cooks very slowly, but to speed up the preparation we can cut it into several pieces. This way of cooking keeps the meat tender and juicy.
Beef steak: the master discipline.
To prepare a steak expertly, the embers must be very strong.
After marinating it in plenty of olive oil, place the meat in the direct heat of the embers. Leave it to grill for a few minutes, lifting it slightly to check that the crispy crust has formed. Mind you, if the meat does not lift off, leave it for a little while, it means it is not ready yet. If the crust has formed on both sides, you know the steak has reached medium-rare, if you want to cook it further through, place it now on a cooler part of the grill to let it slowly age.
For seasoning, choose an extra virgin olive oil with medium fruitiness such as the "Eliodoro" or the "Classic".
Pork ribs: They are a timeless barbecue classic.
Preparation is simple, but care must be taken to use the indirect grilling method. The ribs cook slowly, so the temperature of the embers should not be too high. You need to turn them frequently enough so that they cook evenly.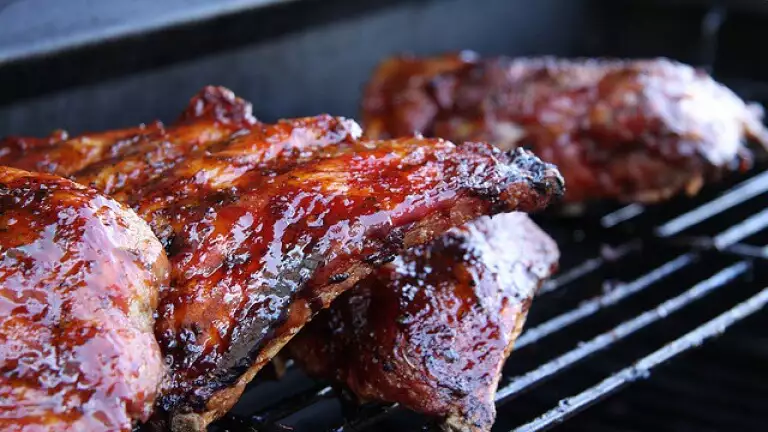 Rack of lamb: It is the worthy finishing touch to any barbecue.
The carré is cut lean and you need a powerful ember to grill it. The cooking process is quick and it takes little to achieve a perfect result. When the typical crust has formed, place the piece in a cooler spot on the grill and let it rest for a few minutes.
Lamb has a strong and decisive flavour, which can be balanced by an equally
by an equally intense extra virgin olive oil. For this, the "Smeraldo" is just right.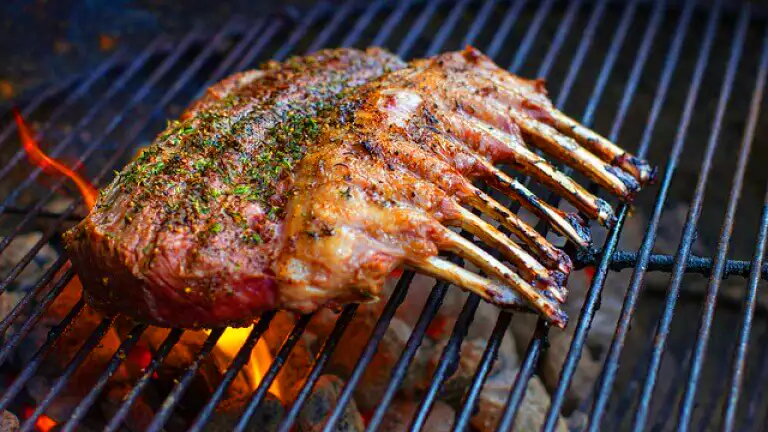 https://macchiaverdebio.com/wp_mvb_uk/wp-content/uploads/marinade.webp
462
539
Filippo Spadaro
https://macchiaverdebio.com/wp_mvb_uk/wp-content/uploads/2022/01/MACCHIA-VERDE-BIO_Logo-light_600px-300x132.webp
Filippo Spadaro
2022-07-31 17:35:54
2022-08-03 19:05:58
The secret of good barbecue marinades! The best tips for barbecue and grill.